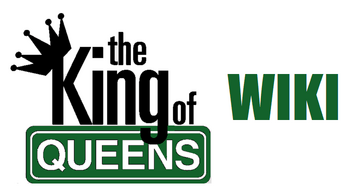 Welcome to our Wikia site
Welcome to King Of Queens Wiki!!!
We are currently editing over 368 articles, and you can help!!!
Community Portal | About this wiki | New pages | Categories | Wiki tutorial | Help pages

Welcome, fans!! Welcome to The King Of Queens Wikia, we welcome any contributions! We invite you to log in and create a user name.

Creating a user name is free and takes only a minute and it gives you greater anonymity if that is your wish. In addition, it is easier for other contributors to ask you questions and help you.

Of course, we hope you continue to make contributions, even if not logged in.
If you are new to Wikia or wikis in general, please visit the Community portal for an outline of some of the main parts of the site and links to pages that show you how to edit.
Discussion of any aspect of the site, and enquiries, can be made at the Forum or on the "discussion" page associated with each article. Please sign and date your contributions there, so that readers know "who to talk to" and whether your message is probably still of current interest.

We are constantly adding new articles to this new wikia. Any information which is valuable to this wikia site that you can contribute is greatly appreciated, with as many good reliable sources as you can find. You are welcome to browse what we have, create a new article (just click on one of the many red links you see), fix an existing article, or participate in one of our Community Projects to make the wiki a better information source.

To write a new King Of Queens Wiki article, enter the page title in the box below.
Welcome, King of Queens TV show fans!!!Edit
The King of Queens wiki is a collaborative fan tribute website to the American sitcom The King of Queens, which aired on CBS from 1998-2007. The king of Queens is about the goings on of a guy named Doug Heffernan who works for IPS Packaging and his wife Carrie, a paralegal, and her irascible dad Arthur Spooner lives with the couple in their middle class Queens home.
About "The King Of Queens"
The King of Queens is an American sitcom that originally ran on CBS, which was produced and written by Michael J. Weithorn David Litt Hanley Productions and CBS Productions (1998–2007) in association with Columbia TriStar Television (1998–2002), and Sony Pictures Television (2002–07). It was filmed at Sony Pictures Studios in Culver City, California, USA. After the series finale broadcast on May 14, 2007, The King of Queens became the last American live action sitcom that premiered in the 20th century to end its run.
The subject of this wiki is about the popular 1998-2007 CBS-TV sitcom series "King of Queens" that starred comedian Kevin James as IPS driver Doug Heffernan, actress Leah Remini, as his wife Carrie, and veteran comedian Jerry Stiller as Arthur Spooner, Carrie's goofball, irasible dad, who moves in with them. Anyone with anymore insight into info about the show can feel free to edit: Please edit pages as necessary, create new pages if needed, and add pictures and as much tidbits about the show that you can come up with. Now Shutttiee!!!!
Who is your favorite King of Queens character?