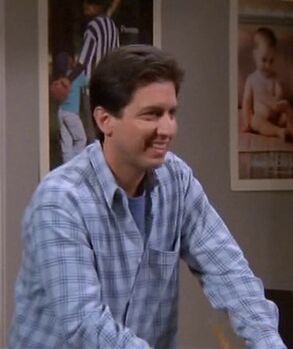 Ray Barone
is
Doug'
s Long Island friend. This character is cross-over from the series
Everybody Loves Raymond
. This has led to guest appearances from four actors from the series who play Ray's wife
Debra
(
Patricia Heaton
), mother
Marie
(
Doris Roberts
), father
Frank
(
Peter Boyle
) and brother
Robert
(
Brad Garrett
) in that series. Also to be noted, all episodes with Ray Romano as Ray Barone play Ray's name into the title episode (e.g. "Road Rayge" and "Raygin' Bulls"). He has apeared in a total of 4 episodes. He is portrayed by
Ray Romano
.
He lives in New York, Lynbrook, Long Island with his wife Debra and their three children Ally and twin boys, Michael and Geoffrey Barone. Ray is well-known through the community due to his profession as a writer for a sports column. In some episodes, he is often seen reviewing a famous sportsperson. However, this is shown to have subsided in the later seasons. Due to the nature of his work, Ray is often seen on the couch watching sports rather than assisting Debra with household duties and the children.
Raymond is also shown to have a rather weak/timid and neurotic personality. He is often heard complaining in a nasally whiny voice to thinking he has a serious illness, to which in one particular incident Debra had to put up with when Ray began to fake an illness to avoid responsibility. His fears include not being liked by everyone and confronting his parents, particularly Marie.
Parts of backstory have explained Raymond's attitude and personality as an adult. During his childhood, Raymond along with his brother Robert, were raised in a dysfunctional family. With their mom spoiling them and being over-nurturing (at least with Raymond) and their father, completely showing no love or affection for either boy and cutting them both out of picture, which Ray has ironically mimicked with his own reluctance to participate with his children.
Note: This character is originaly from Everybody Loves Raymond. Please go to the Everybody Loves Raymond Wiki to read more about this character.
Community content is available under
CC-BY-SA
unless otherwise noted.