King of Queens:
Season 3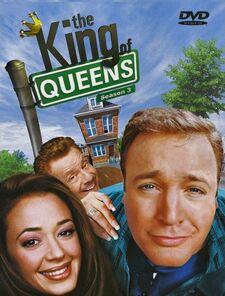 Season 3 box cover
First episode aired:
"Do Rico", aired October 2, 2000
Season finale aired:
"Pregnant Pause (Part 2)", on May 28, 2001
Episodes aired:
25 aired during Season 6
Network
CBS-TV
Previous Season:
Season 2
Next Season:
Season 4
This is the complete episode listing for the third season of The King of Queens. The first episode, Do Rico, premiered on October 20, 2000. The season finale was the second of a two episode story, Pregnant Pause, which aired on May 28, 2001.
Cast
[
]
Episode Guide
[
]
Season 3 (2000–2001)

[

]
Season 3 episodes
Image
Ep.#
# in series
Title
Written by
Directed by
Original airdate
Prod. code
1
51
"Do Rico"
Cathy Yuspa & Josh Goldsmith
Rob Schiller
October 2, 2000
301
Doug's imitation of his new Hispanic co-worker,

Rico

. He later becomes jealous of Rico when he realizes that Carrie seems more responsive to him when he imitates Rico. Meanwhile. Arthur tries to chronicle his own life story. Leah Remini's real-life husband, Angelo Pagan, guest stars as Rico.
2
52
"Roast Chicken"
Tony Sheehan
Rob Schiller
October 9, 2000
302
Carrie has Doug sign a congratulatory card for his boss' twenty years at the company. When he opens the card he is grateful for it, and decides he wants Doug to participate in the banquet roast and Doug blames Carrie for this fiasco. He does rise to the occasion, however, and even manages to get some good laughs out of the audience. That is, until he starts to tell some jokes that hit a little too close to home. 
3
53
"Fatty McButterpants"

Cathy Yuspa & Josh Goldsmith

Rob Schiller
October 16, 2000
303
Doug is offended that Carrie wants him to lose weight, so he vows to lose thirty pounds. In the process, Doug gives Carrie a remark that she wears too much make up to settle the score. 
4
54
"Class Struggle"
David Litt & Ilana Wernick

Jeff Melman

October 23, 2000
304
Carrie decides to return to college, with very little time to get things done. 
5
55
"Strike One"
David Litt
Rob Schiller
October 30, 2000
305
Doug's car breaks down, so he goes out and buys a new truck, just as his union goes on strike against IPS. 
6
56
"Strike Two"

Leonard R.Garner, Jr.

David Bickel
November 6, 2000
308
It's the second week of the IPS strike, so Doug gets a job as a substitute teacher.
7
57
"Strike Out"

Leonard R. Garner, Jr.

Nick Bakay

November 13, 2000
307
The IPS strike has dragged on into its third week, and both Doug and Deacon are spending the majority of their days doing very little outside of sleeping all day. Carrie and Kelly decide to make a play date with Doug, Deacon and Arthur, but the plan backfires when they turn into a trio of merry pranksters. 
8
58
"Dark Meet"
Rock Reuben
Rob Schiller
November 20, 2000
308
After a great Thanksgiving, Doug and Carrie try to recall their first Thanksgiving together and who said, "I Love You" first. They consult Arthur, who quickly recalls some other Thanksgivings and finally recalls 1993 when he was having a fight with his new wife, Lily (Florence Henderson), as Doug was coming over to meet the family.
9
59
"Twisted Sitters"
Ilana Wernick
Rob Schiller
November 27, 2000
309
Doug and Carrie watch Deacon and Kelly's kids while they are out of town. When one of the kids sees them making love in the Palmers' bedroom, they must keep him from telling his parents. 
10
60
"Work Related"
David Bickel
Rob Schiller
December 4, 2000
310
Arthur begins to work at Carrie's law firm. Doug and Deacon compete for the best practical joke. 
11
61
"Better Camera"
Cathy Yuspa & Josh Goldsmith
Rob Schiller
December 11, 2000
311
Doug and Deacon go shopping together for their wives' Christmas presents. They each buy cameras, however Deacon chooses one that is less expensive than the one Doug got because Kelly, Deacon's wife, often loses her cameras. When Carrie correctly guesses what Doug got for her, she convinces him to give her the camera early so that she can take photos at her office's Christmas party. Unfortunately, one of the new partners at Carrie's law firm gives everyone nicer cameras for Christmas. Meanwhile, Arthur sees an opportunity to have his script made into a movie when Lou Ferrigno moves next door.
12
62
"Wedding Presence"
Cathy Yuspa & Josh Goldsmith
Rob Schiller
January 8, 2001
312
Instead of driving out of state for their friends' wedding, Carrie and Doug decide to stay home and later tell the couple that they were there, but did not see them. They soon began to feel guilty and go to the wedding anyway, arriving just as the couple are leaving. Meanwhile, Arthur gets Spencer to participate in his scheme to get half-off shoes. 
13
63
"Hi-Def Jam"
David Bickel & Ilana Wernick
Rob Schiller
January 29, 2001
313
In order to watch the upcoming Super Bowl on a high-definition television, Doug hatches a plan to have his sister Stephanie Ricki Lake) date Carrie's wealthy boss (Alex Skuby). 
14
64
"Paint Misbehavin'"
Tony Sheehan
Rob Schiller
February 5, 2001
314
After Carrie tells Doug that it's okay for him to find other women attractive, he asks her to tell him which men she finds attractive. Among others, she says she finds Deacon good looking, which causes Doug to become jealous. Doug complains about it to Deacon, who brags about it to his wife, Kelly. Deacon's paintball birthday party turns into a jealous war. 
15
65
"Deacon Blues"
David Litt & Tony Sheehan
Rob Schiller
February 12, 2001
315
Doug is surprised to find his married best friend, Deacon, out with another woman. Meanwhile, Carrie questions her relationship with Doug because of their different views on cheating. 
16
66
"Horizontal Hold"
David Bickel & Ilana Wernick
Rob Schiller
February 19, 2001
316
After Deacon and Kelly's separation, Carrie begins to wonder about her own marriage. She and Doug agree to put their sex lives on hold for a few weeks because Carrie feels that they should resolve arguments verbally, not always physically. Meanwhile, Arthur dates a woman who claims she was once Frank Sinatra's girlfriend. 
17
67
"Inner Tube"
Kevin James & Rock Reuben
Rob Schiller
February 26, 2001
317
When Doug lies to Carrie so he can play mud football, he gets sick and starts feeling guilty. He then has dreams about it based on television shows such as Wheel of Fortune, The Young & The Restless and the 1971 ABC-TV film Brian's Song
18
68
"Papa Pill"
Kevin James & Rock Reuben
Rob Schiller
March 19, 2001
318
When Doug volunteers to be Arthur's caretaker, he finds it a much more demanding task then he had anticipated.<
19
69
"Package Deal"
Mark C. Sedeka
Rob Schiller
April 9, 2001
319
Doug considers getting a new job at FedEx after Mitch (Craig Anton)., a FedEx supervisor (who previously worked at IPS) made it sound like a better career choice. Meanwhile, Carrie gets addicted to tanning cream after helping her neighbor, Lou Ferrigno, introduces her to it.
20
70
"Separation Anxiety"
Cathy Yuspa & Josh Goldsmith
Andrew Susskind
April 16, 2001
320
During the Palmer's separation, Doug and Carrie go to the movies with Kelly while Deacon takes the kids. While there, Carrie runs into

Bill

(

Joseph C. Phillips

) a co-worker who seems interested in Kelly. The two end up going on a date, and when Deacon finds out he is ready to patch things up with her.
21
71
"Departure Time"

Nick Bakay

Rob Schiller
April 30, 2001
325
Doug, Carrie and Arthur head out to the airport to visit with Doug's parents (Jenny O'Hara and Dakin Matthews) while they have a short layover at Kennedy Airport on their way to Montreal. While there, his parents ask him to sign their living will, making him the one responsible for pulling the plug. When his sister Stephanie gets wind of this, she is offended that she wasn't the one asked to be responsible. 
22
72
"Swim Neighbors"
David Bickel & Ilana Wernick

Henry Chan

May 7, 2001
321
A hurricane destroys the backyards of the Heffernans and the Sackskys (Bryan Cranston and Dee Dee Rescher). When Carrie becomes cool with their idea of a combined backyard, they retaliate by installing ground pool.
23
73
"S'no Job"
Rock Reuben & Tony Sheehan
Rob Schiller
May 14, 2001
322
Doug's Uncle Stu (Gavin McLeod) asks him to get his son, Danny, a job at IPS. Doug does not want Danny there, but he does not want to look bad to the family, so he instructs his boss, Mr. O'Boyle (Sam McMurray) to interview him but to not hire him. Meanwhile, Arthur fills out audience comment cards on a new movie.
24
74
"Pregnant Pause (Part 1)"
Michael J. Weithorn & David Litt
Rob Schiller
May 21, 2001
323
Carrie discovers that she's pregnant, and she's panicked that the timing is wrong. Meanwhile, Deacon and Kelly begin to reconcile, Spence is left out in the cold, and Arthur insists that Doug build him his own bathroom in the basement.
25
75
"Pregnant Pause (Part 2)"
Michael J. Weithorn & David Litt
Rob Schiller
May 28, 2001
324
Doug gets a night job working as limo driver and tells Arthur that because the contractor they were using is now too expensive with Carrie being pregnant, he would finish the downstairs bathroom himself. However, the responsibility of working so much combined with Arthur bothering him to do the bathroom proves too much, and Doug finally collapses at one of Carrie's appointments. In the end, she loses the baby.