King of Queens:
Season 4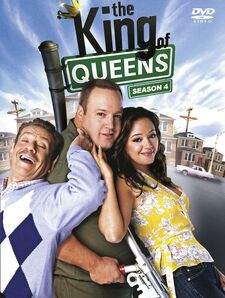 Season 4 box cover
First episode aired:
"Walk, Man", aired September 24, 2001
Season finale aired:
"Shrink Wrap", on May 20, 2002
Episodes aired:
25 aired during Season 4
Network
CBS-TV
Previous Season:
Season 3
Next Season:
Season 5

This Season 4 episode guide is the episode listing for the fourth season of King of Queens after Season 3. The first episode of the season, Walk, Man, premiered on September 24, 2001. The season finale was the second of a two episode story, Shrink Wrap, which was aired on May 20, 2002.
Episode Guide
Edit
Season 4 (2001-2002)Edit
Season 4 episodes
Image
Ep.#
# in series
Title
Written by
Directed by
Original airdate
Prod. Code
1
76
"Walk, Man"
Michael J. Weithorn
Rob Schiller
September 24, 2001
401
In an effort to spend more time with Carrie, Doug hires Holly (Nicole Sullivan) to walk Arthur. The plan backfires, however when Carrie starts spending more on her own endeavors than with Doug.
2
77
"Sight Gag"
Cathy Yuspa & Josh Goldsmith
Rob Schiller
October 1, 2001
403
Doug surprises Carrie with laser eye surgery for her birthday. In an effort to save money, he chooses a cheaper doctor which results in a very worried couple when her sight does not return properly.
3
78
"Mean Streak"
Cathy Yuspa & Josh Goldsmith
Rob Schiller
October 8, 2001
402
Doug is on course to break the record for the number of days without an "incident" - no complaints and no broken packages. The older members of the IPS depot aren't too happy that Doug is going to break the record held by their friend.
4
79
"Friendier Bender"
David Bickel
Rob Schiller
October 15, 2001
404
Following Kelly and Carrie to dinner, Doug, with passenger Deacon, accidentally hits Kelly's car while sneaking a peek at a strip club.
5
80
"No Retreat"
Rock Reuben
James Widdoes
October 22, 2001
405
Carrie brings Doug to her company retreat for the weekend. Carrie tries to get Doug to look like a successful person, but he puts on a bad show. Doug tells Carrie that he will try to work harder to help get her a promotinon; He even tells one of the senior partners that he climbed Mt. Everest!
6
81
"Ticker Treat"
David Bickel
James Widdoes
October 29, 2001
406
Arthur has a minor heart attack after being frightened by Doug on Halloween.
7
82
"Lyin' Hearted"
Ilana Wernick
Rob Schiller
November 5, 2001
407
While Arthur is in the hospital, Carrie starts doubting that she still loves her father. After looking in his room and finding a letter sent by Florida State University accepting her onto a course, It is revealed that Arthur hid this for his own selfish reasons.
8
83
"Life Sentence"
Chris Parrish
Rob Schiller
November 12, 2001
408
Doug and Carrie decide to install a hidden camera in the basement to monior Arthur.
9
84
"Varied Threat"
Ilana Wernick
Rob Schiller
November 19, 2001
409
In this episode, the time is set before Doug and Carrie's marriage. Carrie is very nervous to be married to Doug. She can not stop vomiting. When the two meet with the priest, he remembers that Doug and Carrie met at camp as kids. When Doug tells his family, his cousin Danny says it wasn't Doug that Carrie fell on, but it was him. Doug was at "fat" camp that year. In the meantime, Arthur can not pay for the wedding and lets Doug's parents pay. He spends way toomuch money. Doug cannot get the courage to tell Carrie the truth about the story. This story is the only thing that makes her feel comfortable. He ends up telling her right before they get married, which causes Carrie to throw up.
10
85
"Oxy Moron"
Tony Sheehan
Rob Schiller
November 26, 2001
410
When Doug and Carrie's plane makes a rough landing, Doug takes the oxygen mask all for himself. However, their plane was on the ground. In an arguemnt afterwards, Carrie becomes upset that Doug would not help her if she was in danger. Thus, in an attempt to end the arguement and patch things up,with her, Doug tries his hardest to think of a time when he helped Carrie. Meanwhile, Spence moves in with Doug's cousin Danny.
11
86
"Depo Man"
Chris Downey & Ilana Wernick
Rob Schiller
December 10, 2001
411
Carrie's boss requests her to get Doug to be an expert witness in a court case, however, Carrie feels unsure on how he will do. Spence and Danny have a house warming party to celebrate their moving in together. Danny meets Holly, and he wants to ask to take her out on a date, but Spence asserts that he shouldn't.
12
87
"Ovary Action"
Richard J. Feinstein
Rob Schiller
December 17, 2001
412
Doug and Carrie want to conceive, but receive another negative pregnancy result. When it is revealed that Carrie only has one working ovary, they find they must get started soon; however, their efforts are hindered when Doug's parents visit.
13
88
"Food Fight"
Chris Downey
Rob Schiller
January 7, 2002
413
Carrie grows jealous when Spence's girlfriend recruits Doug to test her culinary work.
14
89
"Double Downer"
Jeff Stein
Rob Schiller
January 14, 2002
414
Deacon asks Doug to come along to Atlantic City for a weekend. Carrie wants to go salsa dancing with him, but grudgingly concurs with Doug's wishes and goes with them to Atlantic City. However, Deacon has sent a message that he will not be coming. Doug's boss, O'Boyle, on the other hand, did arrive there in Atlantic City, on a vacation trip there. In the end though, Deacon changes his mind and also arrives there, but with the bad news that his wife Kelly left him and took the kids. 
15
90
"Dougie Nights"
Cathy Yuspa & Josh Goldsmith
Rob Schiller
February 4, 2002
415
Carrie persuades Doug to take Deacon to a nightclub to cheer him up, but it's Doug who really gets into the scene.
16
91
"No Orleans"
Ilana Wernick
Rob Schiller
February 25, 2002
416
Doug and Carrie sneak off to New Orleans without Doug's cousins after reneging on a deal to travel with them. The trip turns into a struggle to stop the family members knowing.
17
92
"Missing Links"
Michael J. Weithorn
Rob Schiller
March 4, 2002
417
Carrie's work has an annual golf trip, but Doug and Carrie used to always take Deacon and Kelly. Now that Deacon and Kelly have split up, Doug and Carrie have to try to find another couple to invite to the golf trip before Deacon meets a woman named Leslie (Angelle Brooks) and now he can also go on the trip, where he bring along Leslie, too. Carrie meets Leslie and has a hard time clicking with her, but Doug, however, immediately clicks with her and her boistrous laugh. Meanwhile, Holly agrees to watch Deacon's kids while is on the golf trip with Doug and Carrie, but she also has to bring Arthur along, too.
18
93
"Hero Worship"
David Bickel & Chris Downey
James Widdoes
March 18, 2002
418
Uncle Stu (Gavin McLeod) is willing to pay for Doug's dream of owning his own sandwich shoppe, but Carrie doesn't think that it is a very good idea, because of Doug's lack of business sense, but is afraid to tell him. At the hearing of father Stu's willingness to financially back Doug, Danny becomes upset with Stu, saying he should back him, and his dream to open a similar shop, instead.
19
94
"Screwed Driver"
Rock Reuben
James Widdoes
March 25, 2002
419
Carrie goes on a business trip to Chicago when Doug's parents decide to visit for a week trip. When Doug is at work, his boss O'Doyle tells him and his fellow IPS drivers that they are required to take a test on the job; Doug becomes worried about passing the test while taking care of his vacationing parents. But Doug's mother Janet makes it easier for him by taking care of the household as well as Doug and his father; in the process, it makes Doug feel as if he is a teen again.
20
95
"Lush Life"
Tony Sheehan
James Widdoes
April 8, 2002
420
Carrie starts joining a colleague for after-work cocktails and Doug realizes she's less abrasive when she returns home. When Carrie has a row with her co-worker, Doug and Arthur hatch up a plot to conspire to keep her a little tipsy---until neighbor Lou Ferrigno spills the beans to Carrie, and she becomes angrier than ever!!
21
96
"Bun Dummy"
Chris Downey & Tony Sheehan
Rob Schiller
April 29, 2002
421
Doug and Spence have attend a high school reunion, but Spence doesn't want to go because he had a relationship that ended very badly. Doug is looking foward to the reunion, until Carrie starts wearing a new hairdo, which is in a tight bun that looks like a nerdy librarian's hairstyle. So then Doug is afraid that she will wear her hair like that at the reunion.
22
97
"Patrons Ain't"
Ilana Wernick
James Widdoes
May 6, 2002
422
Doug and Carrie donate enough money to Kirby's school library to become patrons of it; however, on the plaque they receive, they are only listed as friends, and not as patrons. Doug, who doesn't want to make a big deal of it has an arguement with Carrie over it. Carrie thinks that the error is such a big deal that once the school board finds out about the mistake, they release "the dear sweet woman who handled the money that was donated", instead.
23
98
"Eddie Money (episode)"
Story by: Kevin James
Teleplay by:
Rock Reuben & Mike Soccio
Rob Schiller
May 13, 2002
423
Doug takes a one hundred dollars from his and Carrie's savings stash to bet on boxing. When he and Deacon win $5,000 in Atlantic City, he must hide the winnings from Carrie, so they set out to blow the entire amount in one day, which includes having pop-rock singer Eddie Money give them a private concert! 
24
99
"Two Thirty"
David Bickel
Rob Schiller
May 20, 2002
425
Doug suspects that his dentist Dr. Farber (Tim Matheson) is purposely hurting him during his visits, because the dentist once had a thing for Carrie. Also, Arthur volunteers to teach Deacon's son to play the piano, despite the fact that he does not know anything about the instrument.  
25
100
"Shrink Wrap"
Michael J. Weithorn
Rob Schiller
May 20, 2002
424
Carrie's and Arthur's constant fighting is starting to frustrate Doug, so Arthur is taken to a therapist (William Hurt) to discuss why he has to yell and act up all the time. Arthur's problems stem from his childhood, by neglected by his father (Ben Stiller). After Arthur is cured, Doug and Carrie realize Arthur wasn't the only one with issues, so they take turns dealing with problems of their own. (Note: This is the top-rated The King of Queens episode on IMDb)
Community content is available under
CC-BY-SA
unless otherwise noted.