King of Queens:
Season 5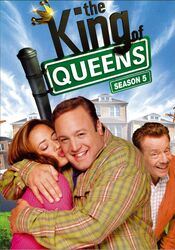 Season 5 King of Queens DVD box cover
First episode aired:
"Arthur Spooner", on September 23, 2002
Season finale aired:
"Bed Spread", on May 19, 2003
Episodes aired:
25 aired during Season 5
Network
CBS-TV
Previous Season:
Season 4
Next Season:
Season 6
The Season 5 guide is the episode listing for the fifth season of King of Queens after Season 4. The first episode of the season, Arthur, Spooner, premiered on September 23, 2002. The season finale was the second of a two episode story, Bed Spread, which was aired on May 19, 2003.
Cast
[
]
Episode Guide
[
]
Season 5 (2002–2003)

[

]
Season 5 episodes
Image
Ep.#
# in series
Title
Written by
Directed by
Original airdate
Prod. code
1
101
"Arthur, Spooner"
Tony Sheehan
Rob Schiller
September 23, 2002
501
Doug gets Arthur to accompany him in his bed because he can't sleep without Carrie.
2
102
"Window Pain"
Ilana Wernick
Rob Schiller
September 30, 2002
502
After their neighbors hear Doug & Carrie in a big fight, Carrie tries to convince the neighbors, Mike (

Michael Lowry

) and Debi (

Marcia Cross

) that they are better than that; Arthur gets Spence to let him ride the subway for free. 
3
103
"Holy Mackerel"
Ilana Wernick
Rob Schiller
October 7, 2002
503
After Carrie receives a bonus after a prayer in church, Carrie starts praying for many things (mostly petty), Doug is disgusted but soon sees the light and joins in on Carrie's "prayer spree".
4
104
"Kurbed Enthusiasm"
Kevin James &

Rock Reuben

Rob Schiller
October 14, 2002
504
Deacon complains to Doug about how much his son Kirby hates football, so he enlists Doug to play football again to encourage Kirby. 
5
105
"Mammary Lane"
David Bickel
Rob Schiller
October 21, 2002
505
Carrie accepts a job given out by her boss, babysitting for his child. Even though his child is already about 4 years old, he constantly keeps grabbing her breasts; After seeing Denise (Rachel Dratch) an unattractive woman working at the bowling alley, Doug throws her a "mercy flirt" but the woman mistakes it for sexual harassment.
6
106
"Business Affairs"
Cathy Yuspa & Josh Goldsmith
Rob Schiller
October 28, 2002
506
Doug gets jealous because someone calls Carrie's new work friend, Kurt her "work husband" even though Kurt is gay. 
7
107
"Flame Resistant"
Rock Reuben
Rob Schiller
November 4, 2002
507
After Doug bumps in to his old girlfriend Margy (

Lola Glaudini

), she and Doug's mom (Jenny O'Hara) spend lots of time together making Carrie jealous. After Doug recalls a song he wrote for his old girlfriend about 15 years previous, Margy insists he did not finish it, but Doug tries to prove her wrong.
8
108
"Flash Photography"
David Bickel

Henry Chan

November 11, 2002
508
At a wedding, Doug is bored and Deacon recalls a story of his own wedding where someone took a photo of their behind. Doug gets inspired and takes a disposable camera into the restroom and tries to copy the story only this time it's his "be-front"!
9
109
"Connect Four"
Ilana Wernick
Rob Schiller
November 18, 2002
509
After Carrie receives some tickets to some sports games from her boss, She tries to find a couple to go with her and Doug. Carrie finds a couple but Doug does not like her husband and Doug finds a couple but Carrie does not like the wife, so Carrie to come up with the idea of a "Franken-couple".
10
110
"Loaner Car"
Cathy Yuspa & Josh Goldsmith
Rob Schiller
November 25, 2002
510
Doug enjoys the "single life" alone at the house after he lends Carrie out to Deacon during Thanksgiving to help him out.
11
111
"Mentalo Case"
David Bickel

John Fortenberry

December 16, 2002
511
At Christmas time, Doug remembers a toy he had as a child so he tries to buy one on eBay but Carrie prevents him because he wanted to pay $180. Doug later goes to a toy convention with Spence to try to track one down. After a sequence of events, Doug thinks Deacon bought him the toy. Carrie thinks Holly bought her a leather jacket, because Arthur gets Holly to disclose Carrie's gift to him. 
12
112
"Jung Frankenstein"
Michael J. Weithorn
Rob Schiller
January 6, 2003
512
After a successful visit to a therapist (Dave Foley) about Doug's over-eating Carrie gets the therapist to work on other problems Doug has without Doug knowing.
13
113
"Attention Deficit"
Chris Downey
Rob Schiller
January 20, 2003
513
Carrie gets mad at Doug for not asking about her job evaluation and at that the fact that he never thinks of her because heis too busy planning his Super Bowl party.
14
114
"Prints Charming"
Cathy Yuspa & Josh Goldsmith
Rob Schiller
February 3, 2003
514
Doug and Carrie pick up some of their photos, but soon they find out, it's not their photos, but photos of another couple, Carrie gets upset after realizing this couple is much more exciting and active then they are. Later, Carrie begins to make Doug join her in different activities.
15
115
"Animal Attraction"
Rock Reuben
Rob Schiller
February 10, 2003
515
On Valentine's Day, Carrie has to cancel dinner with Doug because he and Deacon have to deliver 2 penguins to Albany. Holly is recently dumped so Carrie takes her out to a nightclub in hopes of cheering her up. Arthur and Spence spend their Valentine's Day at Arthur's senior center. 
16
116
"Golden Moldy"
Tony Sheehan
James Widdoes
February 17, 2003
516
While on vacation, Arthur calls Doug to tell him he discovered that the house is mold-damaged and the repair bill is $7,000.
17
117
"S'Poor House"

Michael Weithorn

James Widdoes
February 24, 2003
517
Doug and Carrie find out they have $12,000 worth in mold damage in their house (more than the original estimate) so Doug asks his dad (Dakin Matthews) for the money. Before handing over the money, he looks through receipts, and soon discovers that Carrie has spent large amounts on clothes.
18
118
"Steve Moscow"
Chris Downey
Rob Schiller
March 10, 2003
518
Doug and Carrie hire Steve (

Charles Rocket

) and his group of Russian mold employees to repair their damage, but it takes much longer and costs more than they expected. 
19
119
"Cowardly Lyin"
Ilana Wernick
Rob Schiller
March 31, 2003
519
Doug wants to avoid going to an opera planned by Carrie, so he lies and says he was working late. After Carrie finds out about his lie, Doug admits that he lies because he is scared of her.
20
120
"Driving Reign"
Rock Reuben & Mike Soccio
James Widdoes
April 14, 2003
520
After Danny gets a job working at IPS with Doug, he is able to do Doug's route faster than Doug can. Holly makes the mistake of giving Arthur a mini-trophy that says "World's Best Grandfather", because Arthur would rather be more like a father to her. 
21
121
"Clothes Encounter"
Chris Downey
James Widdoes
April 21, 2003
521
Carrie discovers a "loop hole" in the system, where she has up to 30 days to return items she purchases. Soon, it gets out of hand and she fills up her entire office with a temporary wardrobe. 
22
122
"Queens'bro Bridge"
David Bickel
James Widdoes
April 28, 2003 
522
Doug finds out that Arthur owns inherited property where there is a house built, but there's just one problem, it's co-owned by his hated half-brother, Skitch (Shelley Berman). Doug attempts to reunite the brothers in an attempt to have Arthur move out.
23
123
"Dog Shelter"
David Bickel & Ilana Wernick
Rob Schiller
May 5, 2003
523
After a visit at his parents' house, Doug finds out that his dog has died and been replaced 3 times. Plus, Doug is informed by his parents that he was born in Montreal, Quebec. 
24
124
"Taste Buds"
Story by:


Trevor Dellecave


Teleplay by:
Tony Sheehan
Rob Schiller
May 12, 2003`
524
Doug tricks Arthur into asking Carrie for things that Doug actually likes because Carrie is more apt to listening to Arthur. 
25
125
"Bed Spread"
Owen Ellickson
Rob Schiller
May 19, 2003
525
After their bed gets destroyed, Doug and Carrie sleep in separate beds and enjoy their time apart from each other.