King of Queens:
Season 6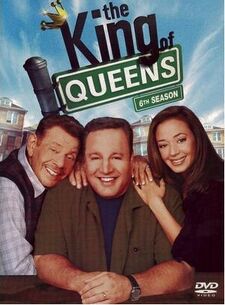 Season 6 box cover
First episode aired:
"Doug less (Parts 1 & 2)", on October 3, 2003
Season finale aired:
"Awful Bigamy", on May 19, 2004
Episodes aired:
24 aired during Season 6
Network
CBS-TV
Previous Season:
Season 5
Next Season:
Season 7
This Season 6 guide is the episode listing for the sixth season of King of Queens, The first episode of the season, Doug less (Parts 1 & 2), premiered on October 3, 2003. The season finale was the second of a two episode story, Awful Bigamy, which was aired on May 19, 2004.
Episode Guide
Edit
Season 6 (2003-2004)
Edit
Season 6
Image
Title
Original airdate
Written by
Directed by
Episode #
Episode Total #
Prod. cude
"Doug less (Part 1)"
October 1, 2003
Ilana Wernick
Rob Schiller
1 
126 
601
Doug takes Carrie on a trip to a lakeside hotel in celebration of his recent weight loss, only later to find it wasn't Carrie that he took previously.
"Doug less (Part 2)"
October 1, 2003
Ilana Wernick
Rob Schiller
2
127
602
Doug and Carrie end up lost in the woodland and go their separate ways, only to reunite at the end. 
"King Pong"
October 8, 2003
Tony Sheehan
Rob Schiller
3
128
603
Doug becomes crazed with winning when Arthur buys a new ping pong table. 
"Dreading Vows"
October 15, 2003
David Bickel
Rob Schiller
4
129
604

Doug and Carrie go through hell to prepare their vow-renewal ceremony

"Nocturnal Omission"
October 22, 2003
Michael J. Weithorn
Rob Schiller
5
130
605
Deacon finds the opportunity to sleep with a very attractive woman; knowing this, Doug finds out that Kelly wishes to get back with Deacon.
"Affidavit Justice"
October 29, 2003
Kevin James & Rock Reuben
Rob Schiller
6
131
606
Doug pretends to work at Carrie's law firm to play on the company's softball team.
"Secret Garden"
November 12, 2003
Chris Downey
Ken Whittingham
7
132
607
Danny becomes the landscaper for Carrie's new gynaecologist Dr. Crawford (Judge Reinhold), which turns out to be trouble when he overcharges the doctor for the work. 
"Eggsit Strategy"
November 19, 2003
Cathy Yuspa & Josh Goldsmith
Rob Schiller
8
133
608
Carrie fears she may lose her job after hearing that the company is intent on firing the "dead wood". 
"Thanks Man"
November 26, 2003
Michael J. Weithorn
Rob Schiller
9
134
609
A stranger wearing an eye patch (Nick Offerman) waiting outside makes for a tense Thanksgiving dinner with friends at the Heffernan house. 
"American Idle"
December 3, 2003
Cathy Yuspa & Josh Goldsmith
Rob Schiller
10
135
610
After applying for many jobs and constantly being rejected, Carrie decides to stop searching and intends to complete other things in her life. Shortly after however, she becomes lazy, depressed and spends all her time at home. 
"Santa Claustrophobia"
December 17, 2003
Owen Ellickson
Rob Schiller
11
136
601
Carrie gets a temp job at IPS, and Doug feels she's around him all the time. Meanwhile, Arthur wants a family Christmas photo and will have anybody in it with him.
"Dougie Howser"
January 7, 2004
David Bickel
Rob Schiller
12
137
612
Doug and Carrie look back on how they got their house.
"Frigid Heirs"
January 14, 2004
Jenna Bruce
Rob Schiller
13
138
613
 Doug and Carrie scam Arthur out of his Bingo winnings.
"Switch Hitters"
February 11, 2004
Tony Sheehan
Rob Schiller
14
139
614
Doug and Carrie get Deacon and Kelly to babysit Arthur in exchange for them babysitting Kirby and Major.
"Cheap Saks"
February 11, 2004
Chris Downey
Rob Schiller
15
140
615
Carrie befriends an old ex-girlfriend (Janeane Garofalo) that Doug treated poorly. Soon Carrie gets tired of her and uses her to get a discount at Saks Incorporated.
"Damned Yanky"
February 18, 2004
Chris Downey
Rob Schiller
16
141
616
Carrie learns that Doug has fantasies about other women and makes a specific list of the women that he should dream about.
"Multiple Plots"
February 25, 2004
Rock Reuben
Rob Schiller
17
142
617
In a trio plot: Arthur tries to sell his extra funeral plot. Meanwhile, Carrie takes up dog walking to earn some extra money, and Doug makes an interesting new friend on his new route.
"Trash Talker"
March 3, 2004
David Bickel
Rob Schiller
18
143
618
Doug's old grade school bully (Jon Favreau) becomes friends with Deacon. Doug cannot seem to let go of the past and continues his hatred for him, because he accused Doug of licking a trash can. Carrie backs her husband up until she realizes the man is a district attorney who might have a position for Carrie at his office.
"Precedent Nixin"
March 17, 2004
Michael J. Weithorn
Rob Schiller
19
144
619
Doug and Carrie convince Deacon and Kelly to go to Doug's parents.
"Foe: Pa"
March 24, 2004
Rock Reuben
Rob Schiller
20
145
620
When Arthur nearly costs Carrie a new job, he vows to set things right.
"Tank Heaven"
April 7, 2004
Rock Reuben
Rob Schiller
21
146
621
Doug scares away all of Carrie's friends from work. Meanwhile, Spence learns that women have a soft spot for guys who take care of the elderly and starts spending time with Arthur.
"Alter Ego"
May 5, 2004
Tony Sheehan
Rob Schiller
22
147
622
Doug, Spence, Deacon, and Danny all drive on a whim to Memphis, so that lovesick Spence can possibly try to stop ex-girlfriend Denise's (Rachel Dratch) wedding to another man.
"Icky Shuffle"
May 12, 2004
Chris Downey
Rob Schiller
23
148
623
Doug helps Arthur compete in the senior's shuffle board competition against a rival (William Daniels). Meanwhile, Holly cooks for Carrie while she;s sick and Carrie milks it for all that it's worth.
"Awful Bigamy"
May 19, 2004
Ilana Wernick
Rob Schiller
24
149
624
Holly moves into Doug and Carrie's house when she is evicted. Doug then takes advantage of her by making her his "downstairs wife" for food and Carrie being his "upstairs wife" for sex.