King of Queens:
Season 7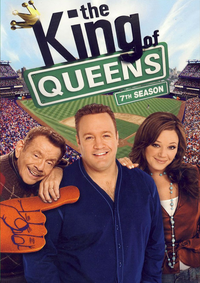 Season 7 DVD box cover
First episode aired:
"Lost Vegas", aired September 27, 2004
Season finale aired:
"Buy Curious", on May 18, 2005
Episodes aired:
22 aired during Season 7
Network
CBS-TV
Previous Season:
Season 6
Next Season:
Season 8
The Season 7 guide has the episode listing for the seventh season of King of Queens after Season 6. The first episode of the season, Lost Vegas, premiered on October 27, 2004. The season finale was the second of a two episode story, Buy Curious, which was aired on May 18, 2005.
Episode Guide
Edit
Season 7 (2004–2005)
Edit
Season 7
Image
Title
Original airdate
Written by
Directed by
Episode #
Episode Total #
Prod. code
"Lost Vegas"
October 27, 2004
Tom Hertz
Rob Schiller
1
150
703
Doug takes Carrie to a spa in hopes that he will earn enough :wife credit: for Carrie to allow him to go on a trip to Las Vegas with his friends.
"Dugan Groupie"
November 3, 2004
Tony Sheehan
Rob Schiller
2
151
701
Doug feels lonely when Carrie enjoys her job after a recent promotion.
"Furious George"
November 10, 2004
Ilana Wernick
Rob Schiller
3
152
702
Doug learns that his over-eating is caused by Carrie's anger.
"Entertainment Weakly"
November 24, 2004
Mike Soccio
Rob Schiller
4
153
704
Doug gets outrageously jealous when a new driver is the center of attentioon doing comedy bits of celebrity impressions, so he sends him to the wrong route. However, after the driver gets brutally injured by a gang, Doug begins to feel very bad about it.
"Name Dropper"
December 1, 2004
Rock Reuben
Rob Schiller
5
154
705
Doug forgets the name of one of Carrie's work friends, so he fakes a heart attack to get out of the situation.
"Offtrack Bedding"
December 8, 2004
Nick Bakay
Rob Schiller
6
155
706
Doug becomes worried when his neglected mom Janet (Jenny O'Hara) starts spending time with Arthur (Jerry Stiller) while his dad Joe (Dakin Matthews) attends a model-train competition.
"Silent Mite"
December 15, 2004
Ilana Wernick
Andy Cadiff
7
156
707
Doug gets jealous when Carrie is hit on by a little person in the store. Later, Doug figures out the little person had stolen his wallet, but Carrie does not believe him because she thinks he just has it in for him because he was hitting on her. 
"Awed Couple"
January 5, 2005
David Bickel
Rob Schiller
8
157
708
Doug and Carrie go to great lengths to find a new couple to hang out with after Deacon and Kelly start spending time with another family.
"Cologne Ranger"
January 12, 2005
Rock Reuben
Andrew D. Weyman
9
158
709

Doug buys a new cologne that sees him getting a lot of attention from other women, but Carrie does not like it and asks him to bring it back to the store. However Doug continues to secretly wear it. 

"Domestic Disturbance"
January 19, 2005
Tony Sheehan
Ken Whittingham
10
159
710
Carrie hires a Mexican housekeeper, but the language barrier frustrates Doug, so he decides to hire Spence's mom (Anne Meara) as his own housekeeper. 
"Pour Judgement"
January 26, 2005
Owen Ellickson
Rob Schiller
11
160
711
Doug takes an aptitude test at IPS, and the results reignite an old dream of becoming a bartender. He decides to go to bartender school, against Carries' wishes. Carrie then changes her mind after seeing all the money that Doug received from tips and wants her dream of having a Manhattan apartment. 
"Gym Neighbors"
February 9, 2005
David Bickel
Rob Schiller
12
161
712
When Doug and Carrie start training with their neighbor Lou Ferrigno so Carrie could lose a few pounds, Doug works out a deal with Lou to laze around during his supposed execise time.
"Gorilla Warfare"
February 9, 2005
David Bickel
Rob Schiller
13
162
713
Carrie recalls what Doug said to her when they were dating that made her want to marry him, but then she learns a horrifying truth that the phras that he said was from an Erik Estrada movie.
"Hi, School"
February 23 2005
Ilana Wernick
Rob Schiller
14
163
714
Doug returns to his old high school to deliver a package to his high school football coach (Burt Reynolds) and gets embroiled in an embarrasing situation at a sports rally for the football team.
"Deconstructing Carrie"
March 2, 2005
Michelle Nader
Rob Schiller
15
164
715
Carrie's 35th birthday is coming up, and so, she begins to worry about how she looks as she gets older. To cheer her up, Doug gets some construction workers to ogle at and yell filthy things at her.
"Black List"
March 16, 2005
Rob Schiller
David Bickel & Michael J. Weithorn
16
165
716
Doug realizes Deacon's new best friend is just a black version of himself.
"Wish Boned"
March 30, 2005
David Bickel & Michael J. Weithorn
Rob Schiller
17
166
717
Carrie gets Doug to take Arthur on a recently won game tickets and trip to St. Louis after they make a deal that he never has to do anything with him any more. Everything goes wrong though when they are diverted to Pittsburgh then Dayton, Ohio. 
"Van Go"
April 6, 2005
Tom Hertz
Mark Cendrowski
18
167
718
Carrie gets Holly to go with her to Lowe's secretly because of her large van. A masculine waitress at a restaurant frightens Doug. Arthur and George pull a casino party to earn some extra cash which ends up backfiring. 
"Ice Cubed"
April 13, 2005
Liz Astrof Aronauer & Michelle Nader
Rob Schiller
19
168
719
During a snow storm: Carrie gets an iPod for free after a cashier is busy talking on the phone and accidentally does not scan it, but Carrie's guilty conscience gets the best of her; Arthur staying at Holly's because of the weather ruins a visit with her boyfriend; Doug is forced to stay with an Asian couple which turns out to be a copy of him and Carrie. 
"Catching Hell"
April 20, 2005
Chris Downey
Rob Schiller
20
169
720
Carrie tries to impress a client (Concetta Tomei) at a ball game but Doug keeps screwing it up. So she pretends that Spence is her husband instead. Holly's gay uncle (Hal Linden) becomes a hit at Arthur's party, making Arthur jealous. 
"Slippery Slope"
May 9, 2005
Chris Downey & Rock Reuben
Rob Schiller
21
170
721
Doug and Carrie go skiing however the trip comes with a catch, a time-share meeting. Danny and Spence also go on the trip pretending to be life partners to get a free weekend.
"Buy Curious"
May 18, 2005
Ilana Wernick
Rob Schiller
22
171
725
The death of Doug and Carrie's neighbor leads them to contemplate entering the world of real estate flipping, but they suspect Lou Ferrigno is out to quash their dreams.