King of Queens:
Season 8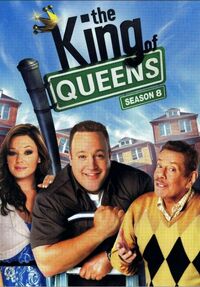 Season 8 DVD box cover
First episode aired:
"Pole Lox", aired September 19, 2005
Season finale aired:
"Acting Out", aired May 22, 2006
Episodes aired:
22 aired during Season 8
Network
CBS-TV
Previous Season:
Season 7
Next Season:
Season 9
This is the episode listing for the eighth season of King of Queens after Season 7. The first episode of the season, Pole Lox, premiered on September 19, 2005. The season finale was the second of a two episode story, Acting Out, which was aired on May 22, 2006.
Episode Guide
Edit
Season 8 (2005–2006)
Edit
Season 8
Image
Title
Original airdate
Written by
Directed by
Episode #
Episode Total #
Prod. code
"Pole Lox"
September 19, 2005
Michael J. Weithorn
Rob Schiller
1
172
801
Accompanied by Doug's heavy encouragement, Carrie enrolls in a pole dancing class, but does not turn out to be a quick study.
"Vocal Discord"
September 26, 2005
Chris Downey
Rob Schiller
2
173
802
After a computer microphone records a fight between the two of them, Doug and Carrie begin to think that marriage counseling is a good idea. Meanwhile, Arthur directs a play at the senior center.
"Consumate Professional"
October 3, 2005
Ilana Wernick
Rob Schiller
3
174
803
Carrie learns that when they were dating, Doug lied to her about his (un)employment status to get her in bed. 
"Like Hell"
October 10, 2005
Owen Ellickson & Mike Soccio
Mark Cendrowski
4
175
804
Doug finds out that Jared (Bryan Callen) a new guy at work does not like him, so he tries to become friends with the guy but comes on too strong. Carrie also goes overboard when she tries to change her image at work and help a co-worker "improve" herself. 
"Sandwiched Out"
October 17, 2005
Nick Bakay & David Bickel
Rob Schiller
5
176
805
Deacon gets a sandwich named after him at Cooper's, infuriating Doug. Holly (Nicole Sullivan) announces she is moving away with her boyfriend, but Carrie is not fond of the idea and Arthur cannot seem to say good-bye.
"Shear Torture"
October 24, 2005
Nick Bakay & David Bickel
Rob Schiller
6
177
806
Carrie becomes jealous of Doug's relationship with his attractive hairdresser. Meanwhile, Spence is excited to go to a Fantasy Fest with Lou Ferrigno, but when Adam West also agrees to go, Spence must decide between the two. 
"Inn Escapable"
November 7, 2005
MIchelle Nader
Rob Schiller
7
178
807
Doug and Carrie's weekend at a quaint bed and breakfast turns out to be less than desirable. Worse, they do not feel comfortable about leaving because they are the only people at the inn for the entire weekend. 
"Move Doubt"
November 14, 2005
Liz Astrof Aronauer & Owen Ellickson
Rob Schiller
8
179
808
Doug and Carrie try to get Deacon and Kelly to buy the house next to them, but a couple with eight kids moves in instead. Meanwhile Danny and Spence compete over a girl from Albania named Zana (Sanya Mateyas)
"G'Night Stalker"
November 21, 2005
Chris Downey
Rob Schiller
9
180
809
Doug and Carrie decide to go out to a karaoke club, where Doug's singing catches the attention of a stranger, who then becomes obsessed with Doug. 
"Raygin' Bulls"
November 28, 2005
Michelle Nader & Rock Reuben
Howard Murray
10
181
810
Carrie goes away with Arthur to visit her mothers grave, and finds out she's not who she thinks she is. Doug and Ray Barone Ray Romano) spend the weekend trying to pick up girls, attempting to outdo each other in a nightclub. 
"Baker's Doesn't"
December 19, 2005
Liz Astrof Aronauer & Ilana Wernick
Michael J. Weithorn
11
182
811
Carrie is asked to bake a cake for the Church bake sale, but she cannot bake.
"Fresh Brood"
January 6, 2006
Michelle Nader & Rock Reuben
Rob Schiller
12
183
812
To persuade Carrie to have a baby, Doug borrows an infant whom Danny is supposed to be taking care of to show Carrie what a good father he would be.
"Gambling N' Diction"
January 23, 2006
Ilana Wernick
Rob Schiller
13
184
813
After Carrie is told she might not get a promotion because of her accent she seeks Spence for help. Doug's mom comes to visit and after seeing her play poker, Doug takes her to Vegas to hustle some people out of their money.
"Apartment Complex"
February 6, 2006
David Bickel
Michael J. Weithorn
14
185
814
Doug, Deacon, Spence and Danny all secretly rent an apartment, but soon Deacon, Spence and Danny move out and Doug lives by himself. Carrie tries to sell a condo to Kirstie Alley but it turns out to be more work than she expected.
"Buggie Nights"
February 27, 2006
David Bickel & Chris Downey
Rob Schiller
15
186
815
Doug and Carrie hire an exterminator (Chris Elliott) to rid their house of bed bugs. Spence and Danny try to decide where to go on vacation. 
"Knee Jerk"
March 6, 2006
David Bickel & Chris Downey
Ken Whittingham
16
187
816
Carrie "accidentally" pushes Doug backwards down the stairs, injuring his knee. Carrie feels bad for him so she waits on him hand and foot. Doug enjoys the attention so he continues to pretend to be in pain. 
"Present Tense"
March 13, 2006
Michelle Nader & Rock Reuben
Henry Chan
17
188
817
For their anniversary, Doug and Carrie receive a less-than flattering portrait of themselves from Deacon and Kelly. As they try to find ways to get rid of the portrait without hurting Deacon and Kelly's feelings, Spence and Danny try hard to become Doug and Carrie's "go-to couple".
"Sold-Y Locks"
March 20, 2006
Owen Ellickson & Dennis Regan
Rob Schiller
18
189
818
Doug convinces Carrie to sell her hair for money, but later regrets his decision, when he sees her hair is cut "like a boy".
"Emotional Rollercoaster"
April 10, 2006
Amy Gershwin
Rob Schiller
19
190
819
It's Doug's 40th birthday and Carrie begins to try to make Doug realize that he should start wanting to do more with his life. So Doug decides he wants to ride a roller coaster that he was to afraid to ride when he was younger.
"Four Play"
May 1, 2006
Liz Astrof Aronauer & Michelle Nader
Rob Schiller
20
191
820
Doug and Deacon discover they have more in common with each other's wives than their own, so they start hanging out with each other's wives as well. When Kelly tires of Doug, he ruins Deacon and Carrie's good time. Meanwhile, Arthur dispenses romance advise and the recipient finds success simply doing the opposite.
"Hartford Wailer"
May 8, 2006
Story by: David Bickel & Chris Downey Teleplay by: Giuseppe Graziano
Rob Schiller
21
192
821
Carrie prepares for a ladies night with her co-workers, until Doug surprises her at the hotel. Spence and Danny pretend to be security to get into a Huey Lewis concert. Guest Star: Huey Lewis of Huey Lewis and The News
"Fight Schlub"
May 15, 2006
Owen Ellickson & Mike Soccio
Rob Schiller
22
193
822
Doug befriends Jake, a driver (Adam Ferrara) who works for a rival delivery company, until he learns that Jake's kindness is fake. Carrie is left to mentor a 16 year-old girl (Blythe Auffarth), however finds that bad behavior helps her make friends better than good behavior.
"Acting Out"
May 22, 2006
Liz Astrof Aronauer & Michelle Nader
Rob Schiller
23
194
823

Carrie is finally fed up with Arthur, so she decides to put him in a retirement home. Doug, of course, is excited but after a touching story told by Arthur, Doug tries to decide whether or not Arthur should go.

Note: This episode features a brief cameo of Jerry Stiller in The Taking of Pelham One Two Three.