Supermarket Story was the tenth episode of Season 1 of The King of Queens, also the tenth overall series episode. Co-written by Cathy Yuspa and Josh Goldsmith, the episode, which was directed by Rob Schiller, originally aired on CBS-TV on November 23, 1998.
A trip to the supermarket sees Carrie guilted into agreeing to make a homemade Thanksgiving and Doug running into an old friend he can't remember. Donny Osmond guest stars as himself.
Doug, Carrie, and Arthur head to the supermarket on the day before Thanksgiving. Carrie is challenged by making a whole Thanksgiving dinner from scratch by Arthur's demands. Doug meets a guy that he does not know, but the guy knows everything about him. Soon, all of them find the true meaning of Thanksgiving.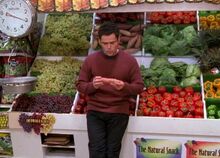 "The Guy" puts his checkbook away when Doug refuses to take money, but it is suddenly back in his hand when Doug agrees to take it.
When Carrie and Helen argue about the shopping cart, a dark-haired woman in a blue-and-black sweater watches. It then cuts over to Arthur, and this woman is seen passing behind him, carrying a shopping basket. When it cuts back to Carrie and Helen the woman is standing there again as if she'd never moved, and is not holding a basket.
When Carrie puts the 3 TV dinners in the shopping cart, as the shots change back and forth, so does the arrangement of the TV dinners.

When Carrie and Arthur throw a turkey into the shopping cart, it is empty. Just prior, she had put two quarts of milk in the cart. The milk disappeared.
When Carrie picks up the little turkey, she places one hand on the bottom of it. In a later shot, she is suddenly only holding it by the top.
Errors in geography
In the supermarket, Doug is seen carrying a six-pack of Cheerwine. Cheerwine is not available for distribution in New York.
Community content is available under
CC-BY-SA
unless otherwise noted.